18-20; 25-27 February: The New Phoenix Theatre on the Park
26-27 February: Nardin Academy and The Gow School
3-5 March: Buffalo Seminary
10 March: UB Center for the Arts presents Aquila Theatre
10-12 March; 17-18 March; 3 May: Buffalo Academy of Visual and Performing Arts
11-12 March: Iroquois High School Drama Club
14-24 April: Niagara Community College
23 April on: The Buffalo and Erie County Public Library
27-28 April: The Nichols School
15 May: Freudig Singers of Western New York
19 July: The BPO Celebrates Shakespeare in Delaware Park
21 July-23 July: Peace of the City's "Shakespeare Comes to (716)"
29 July 29: The Buffalo Infringement Festival, 2016
23 June-17 July; 28 July-21 August: Shakespeare in Delaware Park
12-19 August: The Chautauqua Institute
13-17 October: Niagara University
27 October-6 November; 16-20 November: UB Theatre and Dance
18 November-10 December: Brazen-Faced Varlets
28 January-12 February: Theatre of Youth
16 February-26 February: Springville Center for the Arts
The New Phoenix Theatre on the Park
Love's Passionate Fire: Shakespeare's Sonnets
Thursday, Friday and Saturday,  February 18th-20th and 25th-27th, 8 pm
95 Johnson Park, Buffalo, N.Y.
NPT's artistic director, Kelli Bocock-Natale, continues her exploration of making Shakespeare's works accessible to contemporary audiences. Performed by an all-male cast this original piece will touch your heart and make you laugh, absorb and connect with some of Shakespeare's greatest sonnets.
Box office opens 30 minutes early. For tickets contact newphoenixbox@yahoo.com
---
Nardin Academy and The Gow School
Nardin Academy and The Gow School present
A Midsummer Night's Dream by William Shakespeare
Friday, February 26th, 2016 @ 7:30pm, 710 Main Theatre
Saturday, February 27th, 2016 @ 4pm, 710 Main Theatre
A collaborative effort between Nardin and Gow, with students from Nardin Academy, The Gow School, and Canisius High School. Tickets will be available at the door (710 Main Theatre) and through Nardin Academy beginning in February. For further information, please contact eeddy@nardin.org.
---
Buffalo Seminary
Buffalo Seminary presents
Julius Caesar
by WilliamShakespeare
Thursday, March 3rd, 2016 @ 7:oo pm, Friday, March 4th, 2016 @ 7:oo pm, March 5th @ 2:00 pm and 7 pm, Performing Arts Center, 205 Bidwell Parkway
---
UB Center for the Arts
UB Center for the Arts and Aquila Theatre present
  as part of the School Time Adventure series
Romeo and Juliet by William Shakespeare
Tuesday, March 10th, 2016 @ 10:30am

Now in its 19th year, UB Center for the Arts continues the School Time Adventure series. This series of affordable, age-appropriate productions with school-friendly curtain times serves as an introduction to live theatre for students and their teachers.  The programs are open to groups of 10 or more, play groups, daycare centers, and schools only. To reserve seats for your school group call Karen at 645-6771 or email groups@ubcfa.org.  For more information regarding the performances please visit our website at www.ubcfa.org. This production of Romeo and Juliet is approximately 2/12 hours long and is appropriate for Grades 9-12. $10.00 per person
---
Buffalo Academy of Visual and Performing Arts
West Side Story
Mar. 10 – Mar. 12 (Thurs. – Sat.), Mar. 17 – Mar. 18 (Thurs.- Fri.) @ 7:00pm
BAVPA Mainstage Theatre
450 Masten Ave.
(716) 816-4220
Side by Side Concert


In collaboration with the Buffalo Philharmonic Orchestra
featuring musical selections from
Prokofiev's Romeo and Juliet and Bernstein's West Side Story
Multi-Departmental Perfomances

Tuesday, May 3 @ 7:00pm – Free Admission
Pre-Concert Guitar Performance @ 6:30 pm
Kleinhans Music Hall – Symphony Circle
---
Iroquois High School Drama Club
Midsummer/Jersey
Friday, March 11th, 7 pm , Saturday, March 12th.3 pm and 7 pm
Iroquois HIgh School Auditorium
2116 Girdle Road, Elma, NY
(716) 652-3000 x7001
Midsummer/Jersey (2011) is the hilarious high-octane re-telling of Shakespeare's Midsummer Night's Dream set on the boardwalk of a seaside town in modern-day New Jersey.
---
Niagara County Community College
Romeo and Juliet
April 14 – 16 @7:30pm; April 17 @2:00pm; April 20 @10:00 am; April 21 – 22 @ 7:30pm; April 23 @7:00pm (6:00pm pre-show concert); April 24 @2:00pm
Arts & Media Theatre
Tickets available HERE
---
Buffalo and Erie County Library
Shakespeare and Galileo
 Grant Mudge and Larry Gard as Shakespeare and Galileo; Rogue Repertory Theatre
A professionally staged reading by Rogue Repertory Theatre  of Shakespeare & Galileo, by Grant Mudge, presented through special arrangement with the Carpenter Science Theatre Company of the Science Museum of Virginia. This program is offered free on selected dates for high school groups visiting the Library's Milestones of Science exhibition.
For further information on Library activities, call 716-858-8900 or head to www.BuffaloLib.org.
---
The Nichols School
Dogg's Hamlet/Cahoots Macbeth
Saturday/Sunday, April 27-28, 7 pm
This clever romp is two short plays. In the first, a troupe of English schoolboys (played by adults) speak in a mock language called "Dogg." This hilarious language babbles along until the schoolboys, who are studying Shakespeare's "foreign" language, present an incredibly funny 15 minute version of Hamlet and then encore with a two-minute version! The second play, dedicated to dissident Czech dramatist Pavel Kohout, is about a performance of Macbeth he and his friends once staged in a living room since the government banned public performances. The action shifts between the bare stage and the police inquiry. The murder and intrigue of Shakespeare's play are juxtaposed with the Czech political harassment. The two parts must be performed together and may not be done with any other play.
"The language and the laughter are contagious…Lewis Carroll would have been at home." – The New York Times
---
Freudig Singers of Western New York
If Music Be the Food of Love: A Tribute to the Bard
To commemorate the 400th anniversary of Shakespeare's death, we will present music inspired by his words.
Directed by Roland E. Martin                                                                                   May 15 @3pm
Buffalo Seminary
205 Bidwell Pkwy, Buffalo
---
The BPO Celebrates Shakespeare in Delaware Park
Tuesday, July 19
Delaware Park, 7:00 pm
The BPO joins the global commemoration of the 400th anniversary of the death of William Shakespeare with a free concert in Delaware Park. Actors from Shakespeare in the Park join the BPO for an evening of music and scenes from Shakespeare's works, presented on the newly-renovated Shakespeare in the Park stage.
For more information and the complete program, see https://bpo.org/event/bpo-celebrates-shakespeare/
---
. 

Peace of the City's "Shakespeare Comes to (716)"
Twelfth Night
Directed by Megan McClain Kwacz                                              July 21st, 22nd and 23rd
7 pm (Doors open at 6 pm), "Pay-as-you can"
Shea's Smith Theatre
658 Main Street, Buffalo
About Peace of the City Ministries and "Shakespeare Comes to (716)
Motivated by Jesus' call to "love your neighbor," dedicated staff and volunteers offer a range of relevant programs designed to provide young people with the skills, tools and values needed to succeed educationally, break the cycle of poverty, and lead meaningful, productive lives and hopefully become community leaders and role models.
Since 2009 Shakespeare Comes to (716)  has brought together all of the passions of Peace of the City.   Our year-round theater program intensifies for sixteen weeks as we lead up to a full-length Shakespeare production. We close the gap for our Buffalo public school students as they study, learn and memorize Shakespeare during critical summer months.  They are taught powerful life lessons through the material– how to work collaboratively, how to take direction and what it means to embody another's story which is the foundation of empathy.  They learn basic job skills such as punctuality, hard work, discipline and team work.  We are incredibly proud of the professionalism of our teens and the production quality of our performances. http://peaceofthecity.org/
---
(. 

The Buffalo Infringement Festival 2016 (28 July-7 August) presents
Shakespeare in the Parking Lot
A festival favorite returns by popular demand! Just in time for the 400th anniversary of Willie's demise, Ronawanda and her evil identical twin cousin North Ronawanda (media artists Ron Ehmke and Brian Milbrand) present an evening of the Bard's best death scenes—performed by YOU! We provide the costumes and props and everything else. YOU provide the talent.
Website: www.everythingrondoes.com
Categories: Street/Outdoor Theatre
Part Time Junkies get their Shakespearean Eats
Part Time Junkies get their Shakespearen Eats is July 30 from 6 pm to 9 pm. This collaboration is open to all who want to sing, create art, act, perform, recite poetry about their part time job experiences but time is limited so first come, first gets their junkie time. Also, food and drink related to Shakespeare is served.
Category: Literary
See also http://infringebuffalo.org/index.html
---
. 

Shakespeare in Delaware Park
Ribbon-cutting on the new stage
The Winter's Tale
Directed by Saul Elkin                                              June 23rd until July 17th
Jordan Louis Fischer as the Young Shepherd, and Tim Joyce as the Old Shepherd
The Taming of the Shrew
Directed by Steve Vaughn                                  July 28th until August 21st
Bonnie Jean Taylor as Katharina and Chris Hatch as Petruchio
Zev Steinberg as Grumio and Chris Hatch as Petruchio
http://shakespeareindelawarepark.org/
---
Niagara University Theatre
The Chautauqua Institute
The Taming of the Shrew
Bratton Theater
Love, power, gender roles, and companionship reach raucous heights in Chautauqua Theater Company's unbridled new spin on Shakespeare's comedic battle of the sexes, The Taming of the Shrew. Closing the season, the production will feature the entire 2016 Conservatory company. "This play challenges us in today's politically correct world," says director and CTC Artistic Director Andrew Borba. "but that also provides us a much needed opportunity to laugh at ourselves. I promise that with the combination of the extraordinary talents of those who will be the leading classical actors of tomorrow, Shakespeare's language and a dash of contemporary spin-which I refuse to reveal at this time-this production will be anything but tame!
August 12-19, 2016
For information and tickets see: http://theater.ciweb.org/index.php/shows#shrew
Directed by Andrew Borba
---
Niagara University Theatre
The Macbeth Insurgency
Shakespeare Deconstructed
In the 400th year since Shakespeare's death, this adaptation uses elements and some of the language of Macbeth as a lens with which to explore the seemingly unending string of terrorist events by extremists.  On Student Time performances available.
October 13-17, 2016
For information and tickets see: http://theatre.niagara.edu
Adapted and Directed by Doug Zschiegner
---
UB Theatre and Dance
Return to the Forbidden Planet
UB Center for the Arts, Black Box Theatre
Inspired by Shakepeare's The Tempest, this jukebox musical is packed with rock 'n' roll classics such as Heard it Through the Grapevine, Young Girl, Good Vibrations, and Gloria. Return to the Forbidden Planet won the Olivier Award for Best New Musical for both 1989 and 1990. 
See poster at forbiddenplanetfinal
Oct. 27th – Nov. 6th
Weekdays: 7pm                    Weekends: 2pm
Written by Bob Carlton : Directed by Terry Berliner
Music Director Allison D'Amato
For more information and tickets, see http://theatredance.buffalo.edu/see/current-season/
___________________________________________________
A Midsummer Night's Dream
UB Center for the Arts, Drama Theatre
Nov. 16th – Nov. 20th
Weekdays: 7pm                    Weekends: 2pm
Written by William Shakespeare : Directed by Stephen Wisker
For more information and tickets, see http://theatredance.buffalo.edu/see/current-season/
---
Brazen-Faced Varlets
A Midsummer Dyke's Dream
by Shawn P. Northrip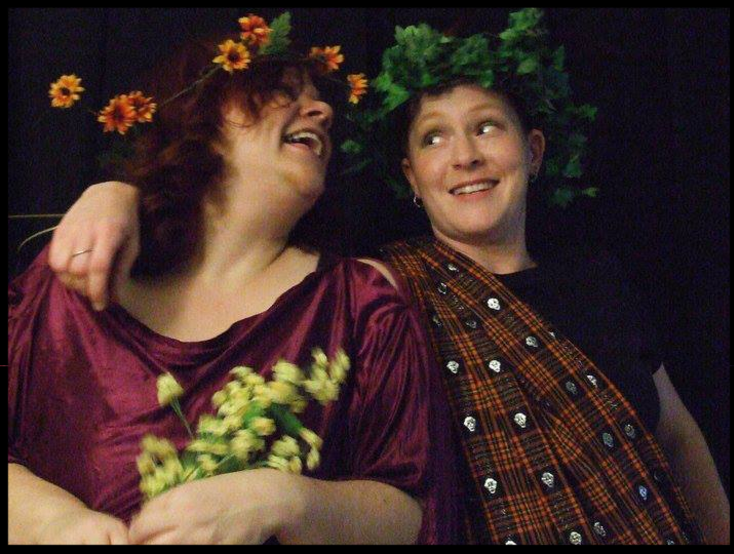 A co-production with BUA.
Featuring: Heather Fangsrud, Jennifer Gembka, Lara D. Haberberger, and Stefanie Warnick.
Directed by Lara D. Haberberger
Four actors will portray over 16 characters in this comedic retelling of the Bard's classic tale of lovers, fairies, and a donkey.  A part of the 400 year celebration of Shakespeare's death along with the tenth anniversary of the Brazen-Faced Varlets.  Shawn Northrip also wrote the Varlets' inaugural show, Ramona and Juliet.
"It's the forest baby, everything goes."
Fridays and Saturdays, November 18 – December 10,  8 pm
Alleyway Theatre Main Street Cabaret Theatre
1 Curtain Up Alley, Buffalo, NY  14202
---
Theatre of Youth
The Shakespeare Stealer
203 Allen Street, Buffalo
Box Office Hours: Tues – Fri. 12:00 pm – 5:00 pm
and 3 Hours Prior to Every Performance
January 28th-February 12th, 2017
Recommended for ages 9+  
By Gary Blackwood, Based on the Young Adult Novel
Guest Directed by Chris Kelly
In Elizabethan England of 1601, we find Widge, an orphan who is skilled in shorthand (and in the art of lying!). He is hired by a mysterious stranger to steal the script of Hamlet. However, he inadvertently becomes part of Shakespeare's acting troupe and ultimately faces a moral dilemma; is it wrong to steal another person's words or ideas? With skullduggery, swordplay, good guys and bad guys, intrigue and danger! An immediately engaging story in the spirit of adventure like Treasure Island and Robin Hood.
---
Directed by Mike Kowal    Auditions October 22 & 23 at 7pm
Titus Andronicus as a cooking show. A rap version of Othello. A dash of football, ketchup and mustard and you have the entire, yes the entire works of William Shakespeare reduced into to a ridiculously sweet soup. After all, Shakespeare just used the same story lines over and over again anyways right? Performance dates are February 16, 17, 18, 24 & 25 at 8pm and Sundays, February 19 & 26 at 2pm. $10 Student & Senior / $12 General.